In the News
---
Snow Day creates 3D-printed miniature replicas and suspends them in snow globes, Nicholas Phillips [Startup Missouri]
"Last spring, Karl Stiefvater received a package from a 3D-printing service bureau and opened it with care. Inside was a tiny transparent bubble no wider than a pencil eraser. It encased three human figurines the size of gnats. To view them, Stiefvater had to use a magnifying glass."
---
Not Your Grandmother's Snow Globe, Bryan A. Hollerbach [Ladue News]
"The venerable snow globe – displayed on grannies' shelves and in other cozy domestic niches nationwide for quite some time now – is undergoing a major new-millennial update through the efforts of a trio of local entrepreneurs.
"Lisa Donahue, Karl Stiefvater and Amy VanDonsel officially introduced Snow Day, their new endeavor, with a launch party last month focused on reimagining the grandmaternal trinket."
---
Made in St. Louis: Custom snow globes use 3D imaging to put your home in a globe, Pat Eby [St. Louis Post-Dispatch]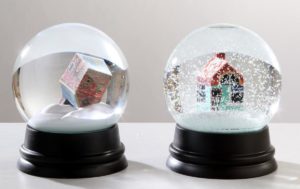 "Snow Day. . . creates old-fashioned snow globes using 3D printing technology. Instead of a generic castle on a mountain, people can now showcase a three-dimensional miniature of their own home set in snow.
---
St. Louis startup wants to turn your home into a snow globe, Ashley Cole [KSDK]
"Snow Day is a startup exploring art and technology to create custom snow globes using 3D scanning and printing. The company says you can send them a video of your home, business, favorite landmark or prized possession and they use a process called 'photogrammetry' and turn your video into a 3D scan, print it in 3D color and put it inside a snow globe."
---
Snow Day, New St. Louis Startup, Will Capture Your House in a Snow Globe, Sarah Fenske [Riverfront Times]
"Snow Day says it can take any building you captured on video and miniaturize it — and then, for the ultimate bespoke holiday gift, it will place the mini version inside its very own snowglobe.
"And, OK, it doesn't have to be a building. You could commemorate everything from a child's toy to a bottle of gin. The technology lets Snow Day do a 3-D scan of pretty much anything you dream up, and from there, the globe part is easy."
Press Releases
---
Download Snow Day Press Release: New St. Louis Company to Launch with Bespoke 3D Printing for Custom Snowglobes, October 19, 2018
Media Contact
---
For media inquiries, press samples, and PR collaborations, contact:
Lisa Donahue at lisa@itsasnowday.com  or (314) 737-2144